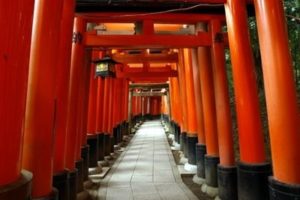 Fushimi is very large area many tourist attractions scattered in a wide range. It takes only about 20 minutes by bicycle to go to Fushimi-inari Shrine from Kyoto Station, but it takes more 30 minutes from Fushimi-inari Shrine to cantral part of Fushimi.
It might be a good idea to take a train simultaneously because there are JR line and Keihan line.
Because sake brewing using rich water of kyoto was flourishing there, so a lot of sake breweries are lined with rows. Also there are many historic spot related with Sakamoto Ryoma. Especially Teradaya is very popular with people from school trip student to who likes history.
If you cycle along Ujigawa River from central part of Fushimi, you will get to Uji area there are Byodo-in Temple or Ujigami-jinja Shrine. if you visit there, we recommend to go with with time and power to spare. It takes about 1.5 hours to go by bicycle from Kyoto Station.
Tourist attractions near Fushimi
Fushimi-inari Shrine, Tofuku-ji Temple, Teradaya

Shops in Fushimi