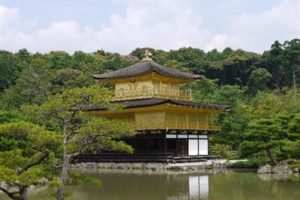 We recommend to cycle along Kinukake-no-michi Street from Kinkaku-ji Temple to Arashiyama. It is lined with huge temples such as Kinkaku-ji Temple, Ryoan-ji Temple, Ninna-ji Temple and Daikaku-ji Temple.
Because there is no railway station, bus, taxi or car is main means of transportation.
If you use a bicycle, it is good to enjoy this area with renting from Kyoto Station area or Shijo-Kawaramachi/Shijo-Karasuma area.
Tourist attractions near Kinkaku-ji Temple
Kinkaku-ji Temple, Ninna-ji Temple, Ryoan-ji Temple

Shops in Kinkaku-ji Area