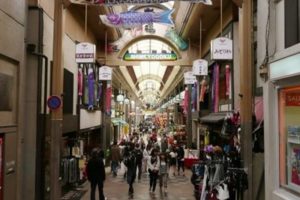 This area is lively town which has been central of Kyoto. You can enjoy also at night because Gion and Kiyamachi area there was a row of restaurants and bars.
It is popular area as a hub for sightseeing with "Shinkyogoku Street" lined with souvenir shops, "Teramachi Street" lined with fashionable shops and kitchen of Kyoto "Nishiki food market".
Easy access by subway or city bus from Kyoto Station. Even by bicycle, it might take not so much time between Kyoto Station and Kawaramachi area.
However, there are no riding area because it is very crowded. Please noted it is difficult to move with bicycle in this area. Be careful for the timing to rent a bicycle.
Tourist attractions near Shijo
Downtown in Kawaramachi area, Gion, Yasaka-jinja Shrine, Sanjo-ohashi Bridge

Shops in Shijo