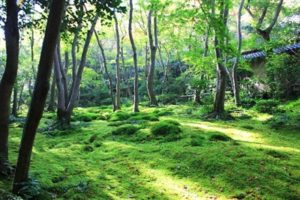 Katsura/Rakusaiguchi is a area many popular attractions scattered such as Saiho-ji Temple called as Koke-dera Temple and Suzumushi-dera Temple famous for the Jizo which makes your only one wish come true.
There is a station of JR line, but bicycle rental is only near a station of Hankyu.
It is very far from central area such as Kyoto Station or Shijo-Kawaramachi/Shijo-Karasuma. It is good idea to act with plenty of time.
Tourist attractions near Katsura/Rakusaiguchi
Saiho-ji Temple(Koke-dera Temple), Suzumishi-dera Temple, Katsura Imperial Villa
※You need to make a reservation to visit in advance when you visit Saiho-ji Temple(Koke-dera Temple) or Katsura Imperial Ville.

Shops in Katsura/Rakusaiguchi