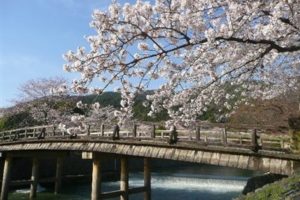 This is a cottage area of Kyoto that you can enjoy the beautiful view such as Togetsukyo Bridge, Bamboo groove, Toriimoto Area, Hirosawa Pond. It is useful to rent a bicycle in this area if you go around only Arashiyama area.
You can easily go to Arashiyama by JR-Line. It is also accessible by Hankyu-Line from Shijo-Kawaramachi/Shijo-Karasuma and Randen-Railway from Omiya/Kitanohakubaicho.
While there are stations of JR, Hankyu and Randen, they are part from each other. It is a good idea to choose nearest shop from the station you use.
However choosing bicycle rental shop which has electric assisted one is recommended if you go to Saga-Toriimoto where has steep grade.
When you visit here with central area, it is possible to go to Arashiyama with Katsuragawa Cycling Road after picking up the bicycle near Kyoto Station or Shijo-Karasuma/Shijo-Kawaramachi.
Tourist attractions near Saga-Arashiyama
Togetukyo Bridge, Tenryu-ji Temple, Daikakuji Temple

Shops in Saga-Arashiyama